Digital Screens
Digital screen templates have been carefully designed to bring our brand identity to life. The templates allow you to tailor your communications in a visually engaging way, whilst reinforcing the University of Stirling brand.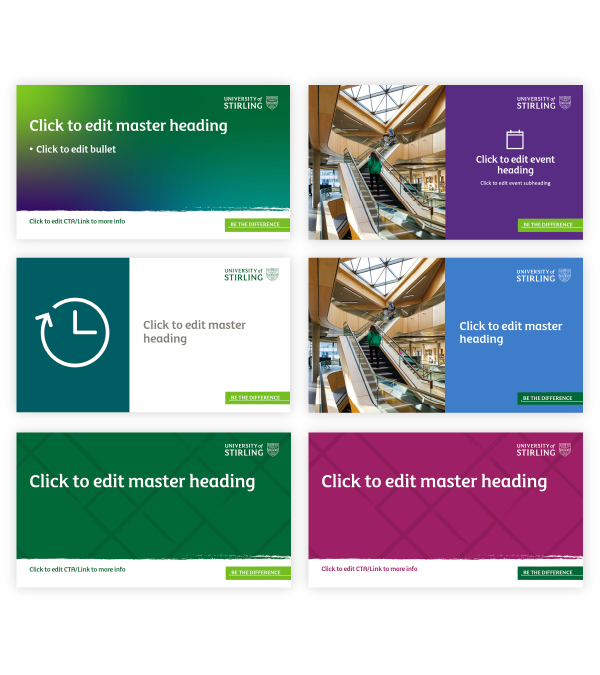 Landscape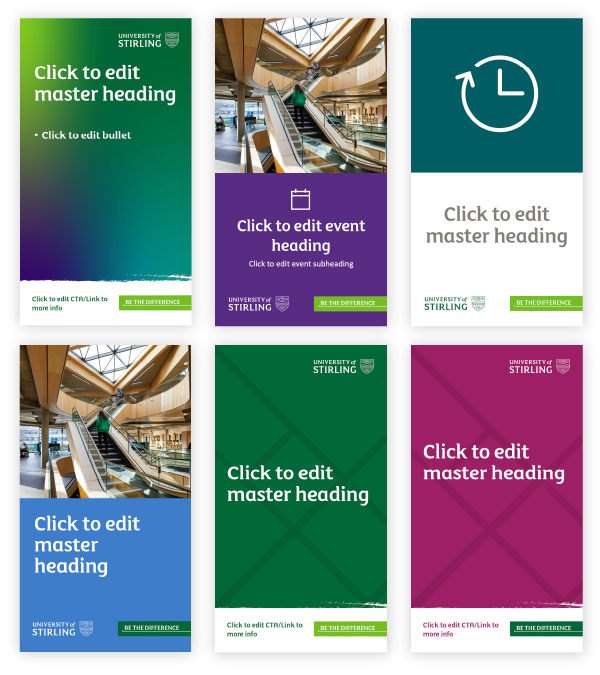 Portrait
Best Practice Guidance
All designs that appear on our campus digital screens must follow the best practice guidance below.
Call to action - include a link or a QR code so viewers can find out more.
Font – simple fonts that can be easily read such as Calibri must be used for accessibility and clarity. Free fonts can be downloaded from Google.
Font size - the header should be in large font size (minimum 100 pt) and body text in a smaller font size (minimum 60pt).
Format – design your screen using powerpoint or another design software such as Canva and save as an mp4 or png file.
Imagery - if using a photograph, it should be sharp and of high quality. Royalty free images can be found on websites such as Pexels. If using a graphic or animation, it should be simple and relevant. When resizing imagery, please maintain proportions and don't stretch it.
Layout - consider what information is needed and how best to position it. Remember most people will only glance at the screen so the information needs to be easy to process.
Logos - ensure the correct logos are included and that the size, position and exclusion zones are adhered to.
Orientation and size - Please supply your screen design in landscape (1920 x 1080 pixels) and portrait (1080 x 1920).
Quantity of screens – long messages may be spread across two or three separate consecutive screens. It is important there is visual continuity across these screens so that viewers can tell it is all part of one message.
Text quantity - your message must be quickly and easily read from a distance. We recommend using no more than 30 words for a landscape screen and 20 for a portrait screen.
Exporting Digital Screens
Select "File" and then "Export" change file format to PNG or JPEG and make sure the dimensions are set to either 1920x1080 (Landscape) or 1080x1920 (Portrait), see screenshot below.